Compiled by Segen Yainshet
April 5, 2023
On March 17, 2023, the same day Getachew Reda was elected as President of the Interim Regional Administration of Tigray, UMD Media conducted a Twitter poll in the Tigrigna language soliciting opinions and reflections on his election.
The first part of the poll had three multiple choice questions asking respondents to pick one.
Did you expect Getachew Reda to be elected? i) No, I didn't. ii) Yes, I did iii) Is he elected?
Out of 878 respondents, around 58 % said they didn't expect while close to 33% saying they expected his election.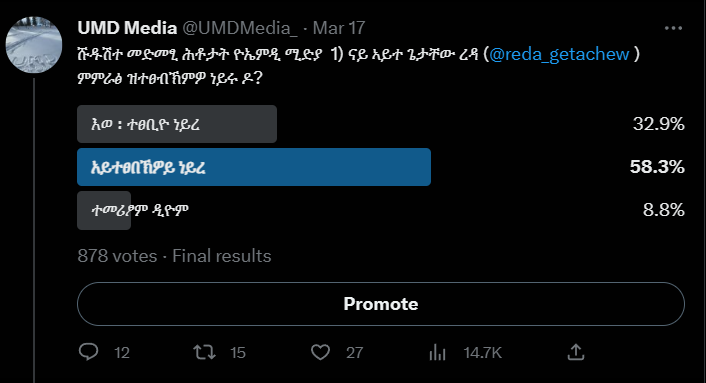 What do you feel of his election? i) I am happy ii) I am not happy iii) I don't care.
Out of 498 respondents, about 70% said they are happy while around 16% reporting they are unhappy.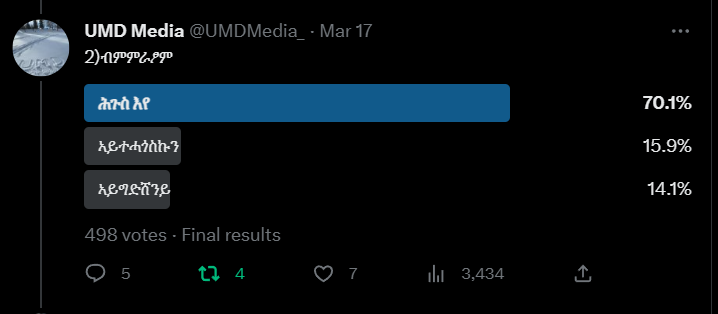 What do you think he will do? i) he will work for a better Tigray ii) he will do whatever Abiy Ahmed wants him to do iii) I don't know.
Around 62% of the 527 who responded said they think he will work for a better Tigray while around 23% said he will do whatever Abiy Ahmed wants him to do.

The poll also asked respondents to share their thoughts on the opportunities, challenges that may arise from his election. They were as well asked to share their words of wisdom to the new president. Summary below.
Opportunities
The election of Getachew Reda as president of Tigray brings hope for change, especially if General Tsadkan is appointed as vice president. Both leaders have the potential to work together towards a better future for Tigray. They are expected to dismantle the old guards and bring better and more dedicated Tigrayans to the forefront. His being new and relatively young leader could break down the group and regional networks in the party, focus on the interests of Tigray, and work with opposition parties, the international community, and the federal government.
The new leadership is expected to move away from the dry and old-fashioned approach of the past to a more flexible and regionally responsive approach. The hope is that they will solve the problems of the people of Tigray and eliminate old thinking. Getachew Reda is expected to establish a better government that accommodates all Tigrayans with different opinions and initiate a new approach free of entrenched influences. His liberal thinking could change Tigray and the TPLF, provided that the TPLF allows him to do his work.
Unlike his predecessor, Dr. Debretsion Gebremichael, Getachew Reda has good communication skills and is not expected to be fooled by Abiy Ahmed and co in the future. He is expected to bring a new line of democracy and be better in listening to people, providing leadership opportunities, especially for young people. The election of Getachew Reda as president is seen as a good opportunity with a great chance he will make Tigray go along with the West.
Challenges
More than 40 individuals provided their feedback, and the results indicated that the majority expressed concern about the potential negative impact of the TPLF party on Getachew Reda's tenure.
The deep-rooted political decay and organizational culture within the TPLF pose significant obstacles to any efforts towards change by Getachew Reda. He may encounter insurmountable challenges from old-guard TPLF ideologues. Another challenge is his potential to break away from the party's traditional ways of doing things, given that individual roles within the party are insignificant, hindering his ability to effect change. Thus, some have expressed the belief that without significant changes within the party, there will be no change at all. Furthermore, there are concerns about the possibility of a TPLF split. It is also mentioned that Reda could potentially prioritize loyalty to his party over the interests of the people, or even become a puppet of the ruling Prosperity Party headed by Abiy Ahmed. In general, as long as the process of his election is not all-inclusive, transparent, and fair, the identity of the President may be inconsequential.
The majority of the opinions expressed concern over the existence of a so-called "network" of party officials within the TPLF party and their associates in Tigray. Some fear that Getachew Reda may maintain the current political structure, allowing one group to continue its dominance, and that the network of corrupt politicians will prevent him from making any significant progress, rendering him a mere puppet figure. This could hinder the much-needed process of radical change. Additionally, limited capacity in sectors such as industry, agriculture, and leadership could pose a bottleneck to the implementation of changes.
There were concerns raised about President Getachew Reda's personality, with some suggesting that he may be prone to being emotional and making verbal mistakes. Others felt that he may not take important matters seriously, which could make him vulnerable to manipulation or leave him unable to compete with other politicians. If he does not adopt a more serious and disciplined approach, there is a risk that he could become a puppet of Abiy Ahmed, and his acceptance by other leaders may suffer. Some have even expressed fears that he may develop dictatorial tendencies, which would be concerning.
One of the critical challenges raised is the possibility that President Getachew Reda may forget about Tigray's desire to become an independent country and hold a referendum once he starts working closely with Ethiopians. There are concerns that he may backtrack on the investigation of the alleged genocide and fail to listen to the voices of the Tigrayans, which could lead to disrespect towards the people of Tigray. However, despite these challenges, some remain optimistic that better days are ahead.
Words of wisdom to the President
The prevailing sentiment regarding the message to be conveyed to President Getachew is the importance of inclusivity and the creation of an inclusive government. Many have urged him to establish a free, transparent, and inclusive government that ensures equal participation of Tigrayans in a transparent and inclusive system, in order to create the necessary environment for reform. There was also a call for the interim government to promote responsiveness and for his cabinet to be inclusive. One respondent stated that "every capable individual should be able to contribute to Tigray".
To achieve this, some suggested convening a national conference to create a collective plan and select wise advisors around him, then separating the government's role from that of the party, and making the next election democratic. Others suggested dismantling the current transitional government and establishing a committee to select a new, inclusive, and transparent government.
In terms of inclusivity, it was suggested that the opposition parties should be allowed to hold meetings and that he should work closely with these parties to break the vicious cycle of losing hope. A tweet highlighted the importance of "sharing power with the younger generation and giving equal participation to all Tigrayans."
Another suggestion made to President Getachew was to promote freedom of speech by allowing critical voices to be heard, and most importantly, to build political capital that he can leverage with the international community.
However, on the other hand, it was also advised by a respondent that President Getachew Reda should clearly communicate in advance and educate the society that freedom of speech should have limits in Tigray, just like in any other country in the world. The respondent mentioned that incitement, defamation and threats must not be protected.
President Getachew Reda has also been advised to put an end to political conspiracies and to engage with the people, understand their problems, and solve challenges immediately. This includes strengthening the unity of Tigrayans, and listening to and focusing on the interests of the people. One tweet made a request to "make the questions of survival and dignity of the people of Tigrayans a priority."
There was also a plea to use all the resources of Tigray and increase its leverage and bargaining power. Specifically, it was requested that he consult with the community of Kunama, Irob, and senior citizens.
The main message regarding institutional change is to focus on building institutions while making TPLF more democratic. Some have suggested dismantling the network of TPLF and making the party accountable to the people. Others have made a request to change the name TPLF and choose a leading political and economic ideology from the world and contextualize it for Tigray.
Furthermore, some have advised President Getachew Reda to return the public's money held in endowment companies and appoint capable people to lead the institutions. Specifically, there was a suggestion to make security be led by professionals and to have a clear separation of civil and military. In this regard, it was highlighted that he should follow a merit-based approach rather than a loyalty-based one when assigning government positions. It was also suggested to establish a council of scholars for checks and balances of power.
One specific request was to "empower Tsadkan and give him a chance to work" as he represents the scholarly side of the transitional government. President Getachew Reda is urged to address critical issues such as peace and security, rehabilitation and rebuilding efforts, ensuring territorial integrity, facilitating the return of internally displaced persons, and ensuring justice is served. Additionally, there is a strong call for him to push for international access to provide much-needed aid such as food and medicine to communities in Tigray. He is also advised to work tirelessly on the disarmament, demobilization, and reintegration (DDR) of combatants and ensure that corruption does not impede progress. It is emphasized that a proper assessment of the level of damage in Tigray must be conducted. Strengthening relations with western countries is seen as a vital step towards achieving these goals. Finally, there is a strong plea for his leadership to acknowledge and recognize the sacrifices and suffering endured by Tigrayans in recent times.
On a more personal note, he received various pieces of advice, but to highlight the main ones:
Work with all to bring out the people from the deep crisis they are in.
Avoid the repetition of what has happened to the people.
Utilize the human resources at your disposal to have more allies and make people happy.
Dismantle the party network and bring more competent leaders.
Avoid holding excessive and unproductive meetings.
Stop the top-down approach and elect new zonal and woreda administrators.
Assign new security carefully.
Counteract proportionally for defamation by opponents.
Respect yourself, and people will do the same.
Take the opportunity to repay your debts to the youth that fought and made you survive.
Avoid so-called friends and bootlickers.
Have periodic press conferences where all media outlets are present.
Stop selling farmers' land.
Don't be arrogant, listen and try to use the best idea for Tigray, and work with opposition political parties for Tigray's interest.
Don't go to restaurants and cafes; try to enjoy at your home.
Be Tigrayan, live for Tigray, make justice prevail using international bodies, and return Tigray land with compensation.
Listen to the heartbeat of the youth, work with all opposition parties, investigate Genocide, and deliver Tigray out of its misery.
Make genuine reform.
Be a human being.
Don't forget what the farmers told you.
Work strategically with allies both internally and externally.
Give timely and contextual leadership.
Ask for forgiveness because many have died because of you.
Surround yourself with people who can play the politics of the Horn of Africa.
The list of 27 members of his cabinet is published today April 5, 2023 after a handing over ceremony between Getachew Reda and his predecessor Dr. Debretsion Gebremichael held in the capital of Tigray, Mekelle. The new administration is now composed of two from the opposition party, the National Congress for Great Tigray, Baytona, four from Tigray Defence Forces (TDF), and four from Tigrayan scholars with the rest 17 held by the TPLF. The other opposition parties including Salsay Weyane and Tigray Independence Party are not included in the cabinet despite their latest announcement positively responding to Getachew Reda's taking the helm.
List of the 27 members of Tigray's Interim Regional Administration:
Mr. Getachew Reda – President (TPLF)
Vice Presidents and Secretariats:
Lt. Gen. Tadesse Woreda – Vice President, Peace and Security Secretariat (TDF)
2. Lt. Gen. Tsadkan Gebretinsae – Vice President, Democratization and Decentralized
Governance Secretariat (Tigray scholars)
3. Mr. Beyene Mikru – Economic Transition Secretariat (TPLF)
4. Dr. Hagos Godifay – Mobilization, Resource Management and Planning Secretariat (TPLF)
5. Prof. Kindeya Gebrehiwet -Social Development Transition Secretariat (TPLF)
6. Ms. Yalem Tsegaye – Infrastructure Secretariat (TPLF)
7. Br. Gen. Teklay Ashebir- Reconstruction & Rehabilitation Secretariat (TDF)
8. Dr. Alganesh Tessema – Science, Technology, Innovation and Training Secretariat (Tigray scholars)
9. Mr. Emmanuel Assefa – Coordinator of the Secretariats (TPLF)
Cabinet Bureaus:
Lt. Gen. Fisseha Kidanu -Peace and Security (TDF)
Maj. Gen. Zewdu Kiros -Social Affairs and Reconstruction (TDF)
Dr. Iyasu Abrha – Agriculture and Natural Resources Development (TPLF)
Dr. Gebrehiwot Agaba – Industry (Tigray scholars)
Mr. Hadush Tesfa- Justice (Tigray scholars)
Dr. Atsbeha Gebregziabher – Culture and Tourism (Tigray scholars)
Mr. Mogos Gebre-Egziabher – Water and Energy (Opposition party)
Mr. Tadele Mengistu – Transportation (Opposition party)
Ms. Mihret Beyene – Resources and Finance Cooperation (TPLF)
Dr. Kiros Guesh – Education (TPLF)
Dr. Amanuel Haile – Health (TPLF)
Dr. Kelali Adhanna- Science, Technology and Innovation (TPLF)
Mr. Hadush Subagads – Youth Affairs (TPLF)
Ms. Genet Arefe – Technical and Vocational Education and Training (TPLF)
Ms. Almaz Gebretsadik – Urban Development and Construction (TPLF)
Ms. Felegush Asaminew – Land and Minerals (TPLF)
Ms. Freweini Gebregiziabher – Women's Affairs (TPLF)
Out of the 27 members, 8 are women.