Compiled by Jan Nyssen
This 60th Tigray Digest focuses on the unprincipled reaction of the UN Human Rights Council member states on the crucial study by the International Commission of Human Rights Experts on Ethiopia (ICHREE): the UNHRC intends to stop ICHREE's activities (section 1)! Further, we address the military death toll of the Tigray war (section 2). As many of our readers are in Belgium, or have otherwise links with Mekelle University, we wished to highlight the visit of the Belgian Ambassador to Tigray and Mekelle University (section 3). Further, we address an upcoming streamed Tigray event in Amsterdam (section 4), as well as scientific publications (section 5), a session and papers at the Fall Meeting of the American Geophysical Union (section 6), and media articles (section 7).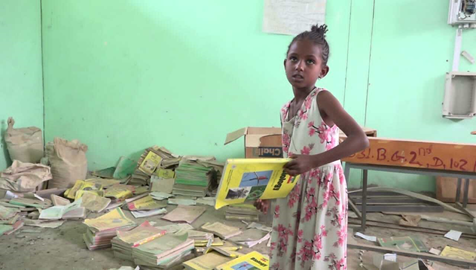 Photo ©Splendor Event "Rekindling hope through education in war-ravaged Tigray" (on 8 October – see topic 4)
1. Realpolitik at the UN Human Rights Council (UNHRC)
"Realpolitik is the approach of conducting diplomatic or political policies based primarily on considerations of given circumstances and factors, rather than strictly following explicit ideological notions or moral and ethical premises."(Wikipedia)
The bad news indeed comes from the 54th session of the UNHRC: no motion has been received to renew the mandate of the International Commission of Human Rights Experts on Ethiopia (ICHREE). There is little hope that the war crimes of the Tigray War and elsewhere in Ethiopia will be investigated.
Human Rights Watch's Lucy McKernan stated: "Having no resolution is scandalous in the face of the report of the experts that was just published." She points to the important report published by the ICHREE on 18 September 2023.
In a statement on 4 October, HRW further specifies that the EU Fails Ethiopia's Victims.
This is the executive summary of ICHREE's report: "In the present report, submitted pursuant to Human Rights Council resolution 51/27, the International Commission of Human Rights Experts on Ethiopia provides an overview of the situation of human rights in Ethiopia. It identifies grave and systematic violations of international law and crimes committed in Tigray, as well as Amhara, Afar and Oromia. Violations include mass killings, rape, starvation, forced displacement and arbitrary detention. The conflict in Tigray has not ended, with Eritrean troops and Amhara militias engaging in ongoing violations. Past and current abuses in these four regions demand further investigation. The Government of Ethiopia has failed to effectively investigate violations and has initiated a flawed transitional justice consultation process. Ethiopia has sought to evade international scrutiny through the creation of domestic mechanisms ostensibly to fight impunity. The Commission recommends a range of measures to end current abuses and promote serious transitional justice."
The ICHREE report was also summarized by UN news.
On 2 October, a second report of the ICHREE was published, as powerful as the first one (if more technical): The acute risk of further atrocity crimes in Ethiopia: an analysis
We also note the appalling coincidence of the EU signing its Multi-annual Indicative Programme (MIP) with the Ethiopian government back into being on the day the ICHREE report was published. Really grim. Here is EU Commissioner Urpilainen's tweet: check out the replies.
On 18 September, Amnesty International insisted already that the UN Human Rights Council must renew the mandate of its investigative body in Ethiopia
On the same topic:
Reuters, 4 October 2023: UN-mandated investigation into Ethiopia atrocities lapses
The Guardian, 4 October 2023: UN investigation into Tigray abuses to end despite reports of more atrocities
HRW, 4 October 2023: Human Rights Council: EU Fails Ethiopia's Victims – No Action Following Scathing Report Highlighting UN's Prevention Role
AFP, 18 September 2023: Ethiopia Conflict At A 'National Scale': UN Experts
The Guardian, 19 September 2023: Tigray atrocities continuing almost a year after ceasefire, UN experts warn
The Reporter, 23 September 2023: Tigray officials demand redesigned transitional justice model
Human Rights Watch, 7 September 2023: 54th session of the UN Human Rights Council: Ethiopia – Renew the mandate of the ICHREE
Mehari Taddele: Tigray Atrocities: Extending ICHREE Mandate Crucial for Accountability (The Elephant)
UK All-Party Parliamentary Group on International Law, Justice, and Accountability: The three horsemen of the Tigray war: Mass Killing, Sexual Violence and Starvation
Antonia Mulvey and Kirsty Hare: Ethiopia's Conflict Is Spreading, But UN Human Rights Council May End Expert Investigation Anyway (Just Security)
Addis Standard, 21 September 2023: US lawmakers call for extension of UN experts' mandate on Ethiopia ahead of decisive vote
Addis Standard, 26 September 2023: TPLF Central Committee calls for UN experts' mandate extension, full implementation of Pretoria agreement; admits "internal weaknesses"
Africa Intelligence, 29 august 2023: Abiy's transitional justice model fails to impress in Tigray (full text available upon request)
Alex de Waal & Chidi Odinkalu: Ethiopians' Human Rights Don't Matter (Reinventing Peace)

2. Military death toll in Tigray
Tigray will hold three days of mourning (13-15 October) as more lists of soldiers killed in the Tigray war become available. Many bodies are still missing, which is why symbolic burials are taking place. It has been anticipated that the Tigray leadership embraced the terms of the Cessation of Hostilities Agreement due to the large number of Tigray Defence Force (TDF) casualties. At the start of the war, it was widely assumed that with roughly equal losses between the two opposing parties (ENDF, Amhara, and Eritrea forces versus TDF), Abiy Ahmed could win the Tigray war on the military field (rather than the moral field). The loss of half a million soldiers (out of a hundred million inhabitants) could be hidden from the Ethiopian public by trickling the information out gradually.
Reversely, in Tigray, there have been hundreds of thousands of military casualties (along with massacres and starvation) out of a population of only six million, and many people are struggling to accept this terrible reality. Tigray's military victims include soldiers from the Tigray Special Forces, which existed at the start of the war; volunteers who flocked to the TDF in early 2021 in response to the widespread massacres by Ethiopian and Eritrean forces; and TDF soldiers who were mobilized in a conventional manner during the second half of the war period.
For instance, in Hagere Selam, the names of TDF soldiers killed were announced, including those who perished more than a year ago. People tell me that "almost in every house a soldier died". The majority are young men of around 20 years old, also a few young women, but many less. In some houses, people mourn two or three TDF soldiers.
For quite some time, people have been calling for these announcements, as well as the declaration of national mourning days. People might otherwise be stranded, waiting for their loved ones to return home.
Again, it could be useful to remind the terms of our initial Appeal by Concerned Scientists and Development Professionals (11 November 2020): "Warfare will not bring a viable solution, for any of the involved parties. Particularly, Tigray is heading for famine, at levels that will rival the disaster of 1984-1985. We, therefore, call upon the world to demand negotiations and a ceasefire in northern Ethiopia, and to rapidly organise efficient delivery of food and other humanitarian aid to Tigray." Unfortunately, the World has looked away…
Further reading:

3.       Visit of Belgian Ambassor to Tigray and Mekelle University 
The Belgian Ambassador to Ethiopia recently visited Tigray extensively, including a high-level visit to Mekelle University. See the Ambassador's LinkedIn posts:
After witnessing what happened, we hope that there will be a stronger Belgian and European commitment to restoring Tigray's human rights situation, food security, territorial integrity, and development cooperation – after all, the Belgian Development Cooperation with Ethiopia owes a lot to the dynamic cooperation programs with Mekelle University, where it all began. 
4.       Musical event FOR TIGRAY in Amsterdam (live & stream) 
Sunday October 8 – 20:00 CET
Rekindling hope through education in war-ravaged Tigray (Ethiopia) 
https://splendoramsterdam.com/en/agenda/111344703/tigray-benefiet-live-stream
Music by Splendor musicians & Tigrayan musicians (krar, vocals and flute); dance by Tegaru Youth Holland; presentation by Jan Willem Baljet & Gebrekirstos G. Gebremeskel

5. Scientific publications related to the Tigray War

6.       Tigray at the AGU 2023 conference 
At the American Geophysical Union's annual conference (11-15 December, both on-site and online), there will be a session on Advances in Earth Observation and Monitoring Environmental Impacts of Armed Conflicts (co-hosted by Tigrayan researchers) and eight papers about the effects of the Tigray war will be presented in different sessions. Check out the programme. 
7.       In the media