A statement by Ethiopian National Defense Force issued today, August 23, 2022, warned anyone including media outside those "who are authorized to report the war" to refrain from writing and talking about the "movement of our troops."
New sights of drone flights are being observed in the area according to reports coming out of Tigray.
"Ethiopia must be held responsible for breaching the humanitarian truce" – a joint statement by professional, advocacy, and community organizations.
The joint statement by 66 professional, advocacy, and community organizations operating in different countries called upon the international community to make "concerted efforts to bring about peace in Ethiopia and end the war in Tigray by demanding an end to the siege, unfettered humanitarian access, the withdrawal of invading forces, including Eritrean and Amhara forces, from Tigray, unrestricted travel of international investigators and journalists, and a negotiated ceasefire and dialogue."
The statement by the organizations was refereeing to the August 15 heavy artillery shelling of Tigray defense positions by the Ethiopian army in Western Tigray as reported by Tigray Military Command on its August 17 statement. The joint statement listed around 20 events and speeches between March 22, the start of the humanitarian truce, and August 20 that it said show that Ethiopian government and its allies are "committed to war".
The joint statement said, "renewed fighting will be devastating with its attendant consequences not just impacting Tigray alone but with grave ramifications to the peace and stability of Ethiopia and the wider Horn of Africa."
The list of organizations that signed the joint statement includes Omna Tigray, Health Professionals Network for Tigray, Security and Justice for Tigrayans, Global Society of Tigray Scholars and Professionals (GSTS), and Ethiopian Canadians for Peace.
Peace, conflicts, and security experts who know the region are increasingly voicing their concerns on the possibility of an all-out war on the backdrop of recent visits of US, UN and EU envoys to both capitals, Ethiopia's Addis Ababa, and Tigray's Mekelle.
Professor Kjetil Tronvoll who is Professor at Oslo New University College tweeted, "Are we inching towards a new large-scale military offensive in northern Ethiopia? Multiple sources are reporting massive Ethiopian National Defense Force troop build-up along Tigray borders, at the same time as the African Union led peace mediation has stalled."
René Lefort, another expert on Ethiopia said, "cartoons published by the state owned press agency made it difficult to expect Addis would be really willing to negotiate." Lefort is referring to a now removed piece by Ethiopian Press Agency that read "The power worshiping of terrorist Tigray People Liberation Front will be buried soon ". The cartoon was posted on its website and its official social media page.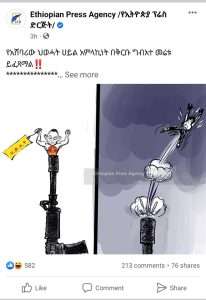 Screenshot of cartoon posted on Ethiopian Press Agency's  official Facebook page on August 20,2022 removed later.